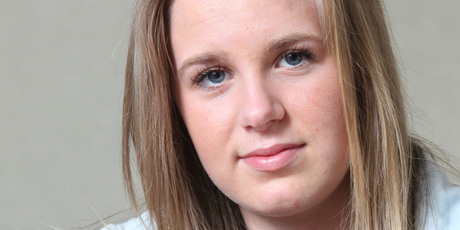 Samantha Wiggins, 18, suffers chronic pain. Photo / Rhys Palmer
Samantha Wiggins has always dreamed of becoming a professional dancer. But the 18-year-old can barely pirouette after surgical mesh was implanted in her stomach to repair a recurring hernia.
A Herald on Sunday investigation into the use of mesh to secure weakened tissue in hernias, and prolapsed pelvic-floor muscles and organs, revealed hundreds of people had suffered from complications after surgery. Wiggins, a student at Hillcrest High School in Hamilton, was born with an umbilical hernia - bulging tissue near her belly button. She had two operations at the ages of 4 and 8 to stitch the bulging tissue.
In 2007, the hernia returned and doctors decided to use a controversial mesh product. Two years later, after suffering ongoing pain, doctors discovered the mesh was causing serious complications and needed replacing. Wiggins had a fourth surgery to fix the mesh but said the pain got so bad she had to take months off school and cancel dance lessons. "I'm in a lot of pain. It's always sore. Especially when I turn my body, it hurts. It feels like something is cutting inside," she said.
Wiggins said her dreams of studying dance at university next year had been crushed. "It's worrying for the future with child birth, who knows what complications I could have then? I just hope it doesn't happen to other people." Her mother, Lisa Wiggins, said they were not fully informed about the complications and risks involved with mesh surgery. "We do not hold any anger towards [the doctor] over this operation, as I'm sure he has done what he thought was best at the time," Lisa said. "But Samantha and I have never been informed of any risks associated with this type of surgery." The doctor said he would check what had occurred but then did not return calls from the Herald on Sunday.
NZ Herald