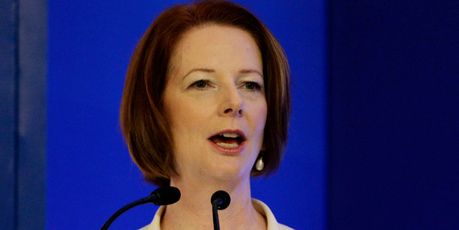 Australian Prime Minister Julia Gillard. Photo / AP
Australians appear to be split over Prime Minister Julia Gillard's judgment that her main political rival is sexist. In a fiery speech to Parliament on Oct. 9, Gillard branded opposition leader Tony Abbott a misogynist for a string of allegedly sexist comments. Her commentary has been lauded by feminists around the world, but a poll published Tuesday showed Australians are divided. Abbott apologized last week for suggesting that Gillard's government was inexperienced in family policy a criticism some saw as a cheap shot at Gillard, who has no children.
The poll by Sydney market researcher Newspoll published in The Australian newspaper found that 45 per cent of respondents said Abbott had behaved in a sexist way toward Gillard recently and 39 per cent said he had not. There was no clear majority view, with 16 per cent of respondents undecided. How Abbott was judged on the sexism charge closely correlated with how respondents intend to vote at general elections next year. Of those who said Abbott is sexist, 66 per cent support Gillard's center-left Labor Party. Of those who said he is not, 76 per cent back his conservative coalition.
Women were more likely than men to condemn Abbott for sexism. Of those who said he was sexist, 43 per cent were women and 35 per cent were men. Of those who responded that he was not sexist, 48 per cent were men and 41 per cent were women.
Despite the divide, Gillard's public stance against sexism has gained solid support. Gillard has said she stands by every word of her blistering attack on Abbott and has vowed to speak out against sexism in the future whenever she sees it. More than three in four respondents (78 per cent) said Gillard's response to the sexism issue had been "about right," including 83 per cent of women and 72 per cent of men. Another 16 per cent accused her of overreacting (22 per cent of men and 12 per cent of women), while 5 per cent said she had underreacted (5 per cent of men and 4 per cent of women). The poll was based on a random telephone survey of 1,218 voters nationwide at the weekend. It had a 3 percentage point margin of error.